Fire Extinguisher Inspection
The actual operating time of a vehicle fire extinguisher in the event of a fire is about 10 seconds, so it is important that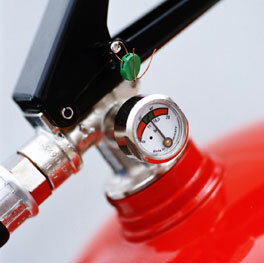 the fire extinguisher is in working order.
Hundreds of vehicle fires occur every year in Estonia. Cars are equipped with 1kg or 2kg powder fire extinguishers, which are subject to different regulations for regular maintenance and installation. Many car owners are unaware that their car fire extinguisher needs annual inspection.
The fire extinguisher which passes the inspection successfully:
has a readable user manual in Estonian;
required operating pressure;
the hull is free from visible mechanical damage and rust;
the hose is not frayed or broken;
the powder is not sintered or hardened;
has suitable barriers and seals;
factory-specified; the efficiency classes for the deletion of various substances meet requirements.

To ensure that the fire extinguisher is in working order, the owner of the fire extinguisher must carry out monthly inspections of the vehicle fire extinguisher in accordance with the law to ensure that the fire extinguisher is in place, pressure gauge in the green sector, seals and seal are intact. If there is a need to check the fire extinguisher, it can be done in our CarBox car services (Teguri 37a and Kreutzwaldi 56d in Tartu and Kelli 7 in Valga). In cooperation with Selektor Projekt OÜ, we provide our clients with fire extinguisher inspection service during car maintenance or repair.
The fire extinguisher inspection service is convenient for the car owner, without having to look for a separate company to carry out the inspection, the inspection can be done at our CarBox dealerships. In addition, our staff can advise vehicle owners how and where best to install a fire extinguisher in your vehicle so that the fire extinguisher is in an accessible location and is securely mounted.
Book your reservation online: www.carbox.ee
or call

For more information, send an e-mail to info@carbox.ee
or visit our services.